July 31 is the feast day of St. Ignatius of Loyola, so during the month of July our posts will focus on five key ideas developed by Ignatius, particularly those principles upon which he formed his Spiritual Exercises. The Spiritual Exercises are designed to help people pray, reflect, develop their spiritual sensibilities, become more deeply acquainted with Jesus of Nazareth, focus upon their purpose and priorities, and make good choices. In five weeks we can cover only some aspects of some of these topics, but I trust that there will be plenty to think about, test for ourselves, and respond to with posts.
For a guide, we are using Jim Manney's recent book: God Finds Us. Each Monday post will have a short quote from that book.
This first week of July, let's ponder love. Ultimately, it's our love that motivates us. It could be love for our family, love for our own accomplishment, love for a job, love for an addiction, and so on. Those of us who work in ministry must remind ourselves that we can plan and work hard, but if God's love does not motivate us, before long the energy will run out. Ignatius knew that we must be in touch with our deepest desires, that we must be brutally honest with ourselves and take that honesty into our prayer.
Ignatius didn't set out to discern "God's will." He discovered God's desire for him by discovering what his deepest desire was for himself. What he wanted and what God wanted were the same thing, and the way he discovered what he wanted was to pay close attention to his feelings. He came in through the back door—by noticing interior, affective experiences that led him to a new way of life. So it is with all of us. The promise of the Spiritual Exercises is that they can lead you to the way of life best suited for you. God's will isn't something external. It's internal. It's implanted in your heart. (God Finds Us, 26)
Meditate on your average day. What feelings do you experience, and to what are they attached? What makes life worth living? When external factors (money, possessions, titles) are put aside, what really stimulates your creative drive to live and be an active force in the world?
---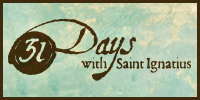 Join Loyola Press for 31 Days with St. Ignatius, a month-long celebration of Ignatian spirituality.